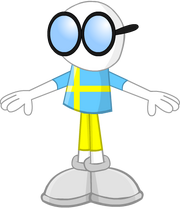 Viklas is the name of the sender of the sbemail
little questions
.
h
≡
r
made a character based on this sender.
MrMenCentral Fanon
Edit
Full Name
Viklas
Age
Unknown
Relatives
Unknown
Romantic Interests
Unknown
Gender
Male
Description

A round head.
Legs like Homestar's.
His body is the same shape as Homestar's.
He has arms.

Attire

A shirt with a Swedish flag pattern on it.
Yellow pants.
Light gray shoes.
Glasses.

Abilities

He can play the synthesizer music from little questions with his glasses.

Weaknesses

Anything he writes is poorly written.
He can't talk.

Likes
Dislikes
Friends
Foes
Nicknames
Catchphrases
Variations

Annika (Runner Toon Adventures)
Ad blocker interference detected!
Wikia is a free-to-use site that makes money from advertising. We have a modified experience for viewers using ad blockers

Wikia is not accessible if you've made further modifications. Remove the custom ad blocker rule(s) and the page will load as expected.