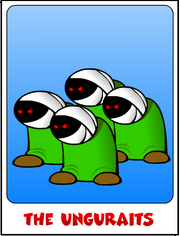 This page is for The Unguraits from ANY person's continuity.
Basic Infomation
Edit
(coming soon)
(coming soon)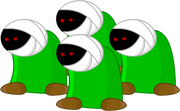 The Unguraits are Dijjery-Doo's assistants and seldom speak. They usually communicate by means of floating computers (that look similar to Strong Bad's current computer, the Zappy XT6), and they have gradient eyes like Strong Bad and Stong Band (their eyes are still red, like Stong Band's). They wear brown shoes, and their green color is a body suit. There are more than four Unguraits, in fact, there's lots of them! Fortunately, Dijjery-Doo is able to store them inside himself, like Pom Pom does with his cell phone.
Ad blocker interference detected!
Wikia is a free-to-use site that makes money from advertising. We have a modified experience for viewers using ad blockers

Wikia is not accessible if you've made further modifications. Remove the custom ad blocker rule(s) and the page will load as expected.