While time machines have been mentioned several times in the canon of Homestar Runner, the book that coined the phrase, The Time Machine by H. G. Wells, has only been referenced in h≡r's fanstuff, to the point where it crosses over into the Homestar Runner Universe (beginning with time travel).
802,701 is the year the Time Traveler goes to in The Time Machine. It is mentioned several times in The Homestar Runner Show (h≡r's fanstuff).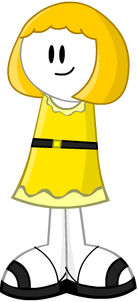 Weena is a character in The Time Machine. The Time Traveler meets her when he is in the year 802,701. In the sbemail time travel, Homestripe goes to the year 802,701 to search for her. After a brief encounter with Yakko, Wakko, and Dot (from Animaniacs), he found her and brought her back to his own time (in the middle of one of The Cheat's costume parties!). She was later adopted by the king and queen of Animenia, who just happen to be Homestripe and Slipstar's parents! This makes her the youngest of the Runner Siblings. In the Homestar Runner universe, she has the typical design of a Homestar Runner character.
About Her
Edit
Full Name
Weena E. Runner
Age
8
Relatives
Homestar (cousin), Homstar (cousin), Homeschool (cousin), Homsar (cousin), Preshy and Rafferdy (cousins), Champeen (cousin), Homesar (cousin), Homescore (cousin), Literal (cousin), The Twins (cousins), Fhqwhgads (cousin), Homestripe (brother) Slipstar (sister)
Romantic Interests
unknown
Gender
Female
Description

She looks like Preshy, but doesn't have that "disturbing soft-serve flip" shared by Preshy and Strong Sad.
She has gold hair.

Attire

A yellow dress with a belt.
Black sandals.

Abilities
Weaknesses

She's afraid of the dark, despite there being no Morlocks in the Homestar Runner universe.

Likes
Dislikes
Friends

All the main characters
Stinkoman
1-Up
All the rejected characters
Senor Cardgage
All of MrMenCentral's OCs
All of Strong Bad's computers, especially the Lappy 486
Marshie
Nibbles
Fhqwhgads
Homestripe and Slipstar.
Everyone else
In other words, Everybody! Everybody!

Foes
Nicknames

Miss 802,701 (various characters call her this)

Catchphrases
Variations

Sana (20X6)
Nika Runner (Runner Toon Adventures)

Costumes for The Cheat's parties
Domicile: CNB-SAF Headquarters
Debut: Email time travel (mentioned); More Locks, Please! (seen)
Ad blocker interference detected!
Wikia is a free-to-use site that makes money from advertising. We have a modified experience for viewers using ad blockers

Wikia is not accessible if you've made further modifications. Remove the custom ad blocker rule(s) and the page will load as expected.