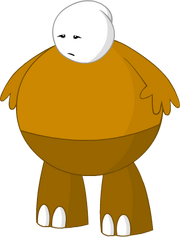 Stong Sand was originally a sand sculpture of Strong Sad. Coach Q made him come to life. He looks like Strong Sad, except he is brown instead of gray and does not have a belly button. He is also smaller. He is Stong Band's brother and a distant cousin of Strong Sad.
h≡r's Homestar Runner fanon characters
The Coaches The CatDog Coaches Coach Pi Homesar Homstar Homestripe Runner Homstipe Homescore Digger Literal Pandora Runner Slipstar Runner Stong Band Stong Sand Strong Plaid Strong Glad Strong Tad The Twins
Ad blocker interference detected!
Wikia is a free-to-use site that makes money from advertising. We have a modified experience for viewers using ad blockers

Wikia is not accessible if you've made further modifications. Remove the custom ad blocker rule(s) and the page will load as expected.