Ad blocker interference detected!
Wikia is a free-to-use site that makes money from advertising. We have a modified experience for viewers using ad blockers

Wikia is not accessible if you've made further modifications. Remove the custom ad blocker rule(s) and the page will load as expected.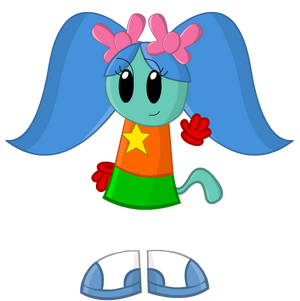 Slipstar Runner is one of the most recent Homestar Runner fan characters created by
MrMenCentral
. She is the middle child of the Runner Siblings and was partly inspired by Wakko Warner from Animaniacs.
About Her
Edit
Full Name
Slipstar Runner
Age
11
Relatives
Homestar (cousin), Homstar (cousin), Homeschool (cousin), Homsar (cousin), Preshy and Rafferdy (cousins), Champeen (cousin), Homesar (cousin), Homescore (cousin), Literal (cousin), The Twins (cousins), Fhqwhgads (cousin), Homestripe (brother), Weena (adopted sister)
Romantic Interests
unknown
Gender
Female
Description

Head and body shaped like Fhqwhgads'.
Hands and feet detached from the rest of her body.
A tail.
Turquoise color.
Blue hair.
Big eyes, small mouth.

Attire

An orange shirt with a yellow star.
A green skirt.
Red gloves.
Blue and white shoes.
Two pink bows in her hair.

Abilities
Weaknesses
Likes
Dislikes
Friends
Foes
Nicknames

The Slipstar Runner (She is sometimes called this in books.)

Catchphrases
Variations

The Slipstar Runner (Old-Timey)
Skipstar (20X6)
Slippy the Squirrel (Folk Tale World)
Spinstar Runner (Runner Toon Adventures)

Costumes for The Cheat's parties
Domicile: CNB-SAF Headquarters
Debut: Unknown