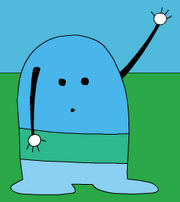 This page is for Señor from ANY person's continuity.
Basic Infomation
Edit
Señor Havin' A Little Trouble, otherwise known as simply Señor, is a small blue fella who entered the Strongest Man in the World Contest in the original book (as well as its animated counterpart made years later). Señor can be considered "half-rejected" as far as his status as a character goes, as he only officially appeared in said book and Main Page 20. According to Strong Bad in the email "origins", he and Mr. Bland were "crushed by a falling Bubs' Concession Stand", ending their careers and possibly their lives. However, Strong Bad tends to make things up concerning history, and in the Fall Float Parade Easter egg, there is nothing on the patch of dirt where the missing concession stand used to be. Thus, Señor's location is currently unknown, but it's doubtful he'll show up very much in the future.
Ad blocker interference detected!
Wikia is a free-to-use site that makes money from advertising. We have a modified experience for viewers using ad blockers

Wikia is not accessible if you've made further modifications. Remove the custom ad blocker rule(s) and the page will load as expected.