This page is for Preshy from ANY person's continuity.
Basic Infomation
Edit
Since the cartoon "Those Darn Cousins" never saw the light of day, little is known of Preshy's past, her personality or her relationships with her brother Rafferdy or her cousin Homestar. All that is known is that she was voiced by the Brothers Chaps' niece, she arrived via an air-dropped crate in "Those Darn Cousins", and she was quite violent, possibly even moreso than her wild brother Rafferdy, abusing her "Uncle Homestar" in such ways as leaping on his face and smashing a guitar over his head. Homestar was supposed to try to convince the rest of the cast that Rafferdy and Preshy were trying to kill him, but the cartoon was abandoned and neither Rafferdy nor Preshy have been seen or heard from since.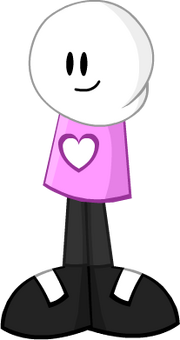 Full Name

Preshy Runner
Age
11
Relatives

Homestar (cousin), Homstar (cousin), Homeschool (cousin), Homsar (cousin), Rafferdy (brother), Champeen (cousin), Homestripe (cousin), Homescore (cousin), Homesar (cousin)

Romantic Interests
none
Gender
Female
Description

White Skin
She looks like Homestar with an upside-down version of Strong Sad's head.
Oval-shaped eyes
Visible mouth

Attire

A pink shirt with a white heart.
Black pants.
Black shoes.

Abilities
Weaknesses
Likes

Rafferdy
Torturing Homestar (formerly)

Dislikes
Friends
Foes
Nicknames
Catchphrases
Variations

Precious (Old-Timey)
5-Up (20X6)

Costumes for The Cheat's parties
Ad blocker interference detected!
Wikia is a free-to-use site that makes money from advertising. We have a modified experience for viewers using ad blockers

Wikia is not accessible if you've made further modifications. Remove the custom ad blocker rule(s) and the page will load as expected.