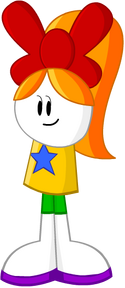 Literal is a Homestar Runner fan character created by
h
≡
r
.
About Her
Edit
Full Name
Literal Runner
Age
11
Relatives
Homestar and his other relatives (cousins)
Romantic Interests
Unknown
Gender
Female
Description

Round Head
Body shape like Homestar
Visible Mouth
Eyes like Homestar's
Legs like Homestar's
Orange Hair

Attire

Yellow shirt with blue star
Red hair ribbon
Green pants
Purple shoes

Abilities

She can do the literal meaning of things.

Weaknesses

She always takes things literally.

Likes
Dislikes

Being told not to take things literally.

Friends
Foes
Nicknames
Catchphrases
Variations
Ad blocker interference detected!
Wikia is a free-to-use site that makes money from advertising. We have a modified experience for viewers using ad blockers

Wikia is not accessible if you've made further modifications. Remove the custom ad blocker rule(s) and the page will load as expected.