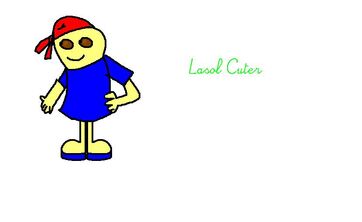 Age: 8
Relatives: Pom Pom (father), Coach A (mother), Poma Poma (aunt), Bubs (uncle), Pum Pum (cousin).
Alias: Flower
Romantic Interests: Starolla
Gender: Male
Description: Yellowish skin, Five-fingered hands, Blue feet, Brown eyes.
Attire: blue t-shirt, red headscarf
His Parents
Poma Poma
Bubs
His cousin Pum Pum
Starolla
Friendship
Hapiness
People are becomes friends
Falling
People calling his "Pirate Kid"
People made Bad things
Sadness
Madness
Relationships
Edit
Poma Poma
Bubs
Coach A
Pom Pom
Pum Pum
About Him
Edit
Lasol - Pom Pom's son and Bubs neplew. He loves Starolla (Laura Esten's best friend). Lasol likes Friendships. He has youger cousin - Pum Pum.
Ad blocker interference detected!
Wikia is a free-to-use site that makes money from advertising. We have a modified experience for viewers using ad blockers

Wikia is not accessible if you've made further modifications. Remove the custom ad blocker rule(s) and the page will load as expected.