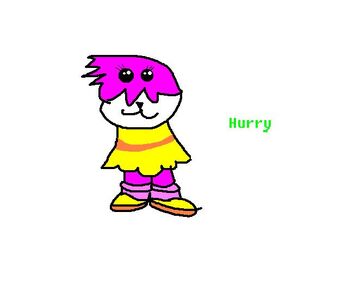 Age: 26-28
Relatives: Sunny (Cousin), Darna (Cousin).
Alias:
Romantic Interests: N/A (Though appears to show some interest in Strong Mad)
Gender: Female
Description: White Mouth, Pink Skin, Brown Eyes.
Attire: yellow/orange dress, light pink carryings, yellow/orange boots.
Strong Mad
Friends
Purple color
Cute Things
Her cosins Sunny and Darna
People calling her emo or goth
People which can bite her rubbers
People which are not divided
Relationships
Edit
Other Variations
Edit
Panpanys (20X6)
About her
Edit
Hurry is Sunny's cousin.
Ad blocker interference detected!
Wikia is a free-to-use site that makes money from advertising. We have a modified experience for viewers using ad blockers

Wikia is not accessible if you've made further modifications. Remove the custom ad blocker rule(s) and the page will load as expected.