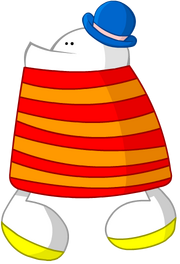 Homstipe originated as a misspelling of 
Homestripe
.
About Him
Edit
Full Name
Homstipe Runner
Age
Unknown
Relatives
Homestar (cousin), Homstar (cousin), Homeschool (cousin), Homsar (cousin), Preshy and Rafferdy (cousins), Champeen (cousin), Homesar (cousin), Homescore (cousin), Literal (cousin), The Twins (cousins), Fhqwhgads (cousin), Homestripe (cousin) Slipstar (cousin)
Romantic Interests
Unknown
Gender
Male
Description

His bodyshape looks exactly like Homsar.

Attire

A blue bowler hat with a pink stripe.
A red-and-orange "stripéd" shirt.
Yellow shoes.

Abilities

He is a great singer and can play the banjo very well.

Weaknesses
Likes
Dislikes
Friends
Foes
Nicknames

The Homstipe Runner (He is sometimes called this in books.)

Catchphrases

"Y'all come back now, ya hear?"

Variations

The Homstipe Runner (Old-Timey)
Stipesar (Runner Toon Adventures)
Domicile: Unknown
Debut: email homstipe
h≡r's Homestar Runner fanon characters
The Coaches The CatDog Coaches Coach Pi Homesar Homstar Homestripe Runner Homstipe Homescore Digger Literal Pandora Runner Slipstar Runner Stong Band Stong Sand Strong Plaid Strong Glad Strong Tad The Twins
Ad blocker interference detected!
Wikia is a free-to-use site that makes money from advertising. We have a modified experience for viewers using ad blockers

Wikia is not accessible if you've made further modifications. Remove the custom ad blocker rule(s) and the page will load as expected.