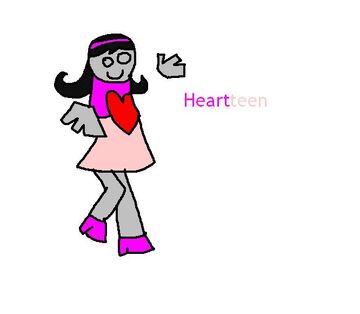 Age: 30-34
Relatives: Starteen (sister)
Alias: Heart
Romantic Interests: Homeflower Runner (crush)
Gender: Female
Description: Grey Skin, Rashom's Hands, Marzipan's Eyes, Pink Feet.
Attire: Light Red/Pink dress w/ a large red heart on the front.
Drawing
Homeflower Runner
Family
Reading
Gaining knowledge
Friends
People being not being rational.
Annoyance
Loud Noises
People she considers idoits
Insane People
People calling her emo or goth
People tearing up her books
Everyone but her friends
Relationships
Edit
Homeflower Runner
Starteen
Everyone other than her friends
About Her
Edit
Heartteen is Starteen's older sister.
Ad blocker interference detected!
Wikia is a free-to-use site that makes money from advertising. We have a modified experience for viewers using ad blockers

Wikia is not accessible if you've made further modifications. Remove the custom ad blocker rule(s) and the page will load as expected.