Dumpoman is the 20X6 version of Strong Sad and Stinkoman's long lost little brother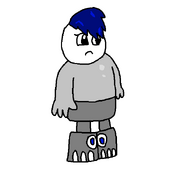 Dumpoman was created by the same person who created Stinkoman (But not in real life), but Stinkoman left before Dumpoman was made.
Dumpoman ended up working for the Shadowy Figure to stop Stinkoman and his friends. When Dumpoman met him, Stinkoman gladly accepted the challenge as usual. Dumpoman was hard to take down due to his high defense, but had poor fighting skills. In the end Stinkoman let him live.
It is unknown when the two brothers will find out they're related to each other, but Dumpoman will possibly turn good in the future since he doesn't like The Shadowy Figure that much.
Full Name
Dumpoman
Age
A little younger than Stinkoman
Relatives
Stinkoman and 20X6 Strong Mad (long lost older brothers)
Romantic Interests
Unknown
Gender
Male
Description

Blue hair
White face
Eyes like 1-up
Grey body
Robot Soolnds.

Attire
Abilities
Weaknesses
Likes
Dislikes
Friends

The Shadowy Figure (even though he doesn't like him very much)

Foes

Stinkoman
1-Up
Pan Pan
20X6 Marzipan

Nicknames
Catchphrases
Ad blocker interference detected!
Wikia is a free-to-use site that makes money from advertising. We have a modified experience for viewers using ad blockers

Wikia is not accessible if you've made further modifications. Remove the custom ad blocker rule(s) and the page will load as expected.