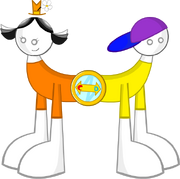 MrMenCentral (
h
≡
r
) likes to include
conjoined twins
(also known as
Siamese twins
) in his Homestar Runner fanon.
Appearances
Edit
The CatDog Coaches were conjoined as a result of The Virus.

h

≡

r

decided he would like to keep them that way, so they weren't separated at the end of virus 2.
The Twins used to be conjoined twins before their first appearance. It is later revealed that they were separated by Coach Q.

They also used to have conjoined Siamese cats (a play on Siamese twins). The cats' names were Skippy and Jon, a reference to Skippyjon Jones.