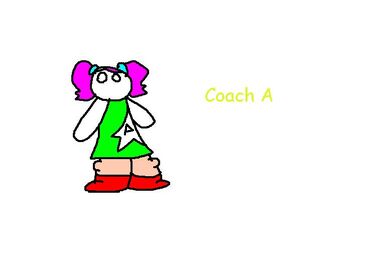 Age: 20-28
Relatives:Pom Pom (husband), Coach Z (brother), Lasol Cuter (son), Pum Pum (niece)
Alias: Star
Romantic Interests: Pom Pom
Gender: Female
Description: White skin, Strong Mad's legs, Coach Z's fase, Pink hair
Attire: Red boots, Green shirt white star in front shirt, letter a on star.
Green color
Coach Z
Pom Pom
Lasol
Books
Friendship
Pum Pum
Relationships
Edit
Pum Pum
Pom Pom
Coach Z
Lasol
About Her
Edit
Coach A - is Coach Z sister and Pom Pom's Wife. She's husband one of poms. Coach A has son - Lasol.
Ad blocker interference detected!
Wikia is a free-to-use site that makes money from advertising. We have a modified experience for viewers using ad blockers

Wikia is not accessible if you've made further modifications. Remove the custom ad blocker rule(s) and the page will load as expected.