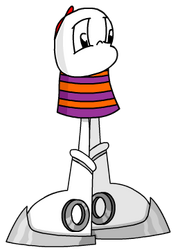 4-Up
is the 20X6 counterpart of
Homestripe Runner
. He is the oldest of the 20X6 Runner Siblings and sounds like Gobo Fraggle from
Fraggle Rock
.
About him
Edit
Full Name
4-Up Runner
Age
15
Relatives
Skipstar (sister), Sana (adopted sister)
Romantic Interests
Unknown
Gender
Male
Description

His bodyshape is the same as 1-Up's.

Attire

A cap like 1-Up's, but completely red.
A purple-and-orange-striped shirt.
White and gray boots.
Unlike his modern-day counterpart, he has no glasses or fanny pack.

Abilities

He is a detective, like his modern-day counterpart.
He knows he is a cartoon character.

Weaknesses
Likes
Dislikes
Friends

All the good guys of 20X6
Homestripe, Slipstar, and Weena

Foes

The Shadowy Figure and all his henchmen

Nicknames
Catchphrases
Ad blocker interference detected!
Wikia is a free-to-use site that makes money from advertising. We have a modified experience for viewers using ad blockers

Wikia is not accessible if you've made further modifications. Remove the custom ad blocker rule(s) and the page will load as expected.